This Reverse Osmosis System specially designed for fresh and salt water aquarium owners. MyAquaFilter Countertop Reverse Osmosis System easily attaches to your kitchen faucet without the need for plumber.
Instantly transforms tap water into healthy, high quality, fresh water for fish
Less than 60 seconds to install
12 months or 1000 gallons filter life
Depends on membrane GPD rating this RO system will produce 1 gallon of pure water within 11-22 minutes
State of the art 4-stage Reverse Osmosis filtration
Removes more than 420 contaminants
Removes all major dangerous contaminants, including chlorine, chloramines, viruses, bacteria, fluoride, arsenic, asbestos, VOCs, pesticides, chemicals etc
Designed and Assembled in USA
100% Satisfaction guaranteed or 15 days money back
4 Stage Aquarium Countertop RO system has following stages:
1st stage: Premium Quick-Connect 5 micron sediment filter. Dust and rust particles are trapped here in the filter which also extends the life of the RO system and the membrane.
2nd stage: Premium USA made Quick-Connect T28 coconut activated carbon filter – VOCs (volatile organic compounds) and other common chemicals are removed from the water in this stage. This filter removes chlorine, chloramine, pesticides and herbicides, benzene, trihalomethane (THM) compounds, radon, solvents, and hundreds of other man-made chemicals found in tap water,  This stage removes offensive odors, colors, and unpleasant taste.
3rd stage: Premium High Rejection TFC type Reverse Osmosis membrane (membrane made in USA).  96%-98% of total dissolved solids (TDS) and other elements are removed in this stage. Arsenic, fluoride, lead, chromium, radium, viruses, bacteria, aluminum, cyanide, methane, silver, copper, chromium, strontium, uranium, benzene, nitrates, cysts, radium. cloudiness and other unhealthy contaminants are removed from the water. 75 or 150 gallons per day capacity (it takes approx 22 minutes to get 1 gallon of pure water for 75 GPD membrane, and 11 minutes – for 150 GPD membrane).
4th stage: Produces ultra high quality water with deionizing mixed bed polishing filters (0-6 PPM). This stage produces exceptionally clean water with a minimum TOC background. Made in USA. Content 2/3 of DI beds and 1/3 Carbon T33
Aquarium RO System delivers approximately 3-6 gallons of pure, clean water per hour.
There are 2 major problems with using municipal water for aquariums:
chlorine, chloramine (and other chlorination byproducts).
nitrate, nitrine contaminants.
Using tap water, which has been treated with chlorine for human use, can be deadly to all kinds of fish. Our Aquarium Reverse Osmosis System removes more 96%-99.8% of chlorine/chloramine byproducts. We use a modern GAC T28 Carbon Prefilter to remove chlorine and by-products from the water.
The nitrogen cycle is responsible for your aquarium's biological filtration and the removal of toxins. Within this cycle, bacteria and fungi break down uneaten food, dead organisms, fish, plant, and invertebrate waste into ammonia. Aerobic bacteria break down ammonia into nitrite, and nitrite into nitrate. Nitrate causes stress to fish and invertebrates, which opens the door to diseases and reproductive failures. In addition, high nitrate levels can quickly change water chemistry. So nitrate removal is vital to your aquarium's overall health. For most aquarists, nitrate is then removed from the system by frequent water changes. But your municipal water is not a good source of freshwater for aquarium since it may have nitrate/nitrite. US EPA allows up to 10ppm of nitrite/nitrate in water.
In fact, some municipal water has a high level of nitrate, nitrite contaminants. Regular Reverse Osmosis membrane (any brands) removes only 60-76% nitrates. Super DI Ion Exchange Resin bed filter increases removal up to 85-95%. Besides nitrate & nitrite removal, DI Beds filter provide extra protection against many other water contaminants. DI Ion Exchange Process produces ultra-high purity water with a minimum TOC background, and decreases the total level of TDS to 0-6 PPM. This RO System is one of the best systems on market for aquarium use.
Reverse Osmosis with DI removes virtually everything from tap water, including essential minerals your aquarium inhabitants need to flourish. Depending on the type of aquarium the RO water is being used for, it may be necessary to add these essential minerals back into the purified water. Most marine salt mixes already contain these minerals and the use of RO conditioners is not necessary. However, freshwater aquariums require re-mineralization to achieve the desired pH.
There are 2 options to use Aquarium RO:
1. Mixing RO Water with Tap Water
The simplest way to use RO water for softening water and lowering pH is to mix a proportion of tap water and RO together to achieve the desired levels. You can mix ¾ RO water with ¼ tap water to produce the desired result.
2. Using 100% RO Water and Re-mineralization
Starting with pure RO water, essential salts and minerals are added in proportions that create water with the correct parameters for the fish it is to be used for. This needs to be done carefully and although minerals and compounds can be custom mixed by the individual fish keeper, the simplest and most accurate way to reconstitute RO water is by using commercially available products. There are many remineralization products available, some of which are specifically designed for certain types of fish.
Be advised:
When you switch to using RO to adjust hardness and/or pH in an established tank you MUST do this gradually over a number of partial water changes.
What to expect.
If your tap (source) water 300 ppm, after filtration – 50..35 ppm (test can be performed not earlier than 4-6 days of regular use).
RO System dimension: 14″x6″x6″.
This RO system produces 1 gallon of water every 11-22 min (very slow, water purification output depends on membrane GPD rating, water dripping not flowing). We highly recommend collecting water in advance (every day or every second day) to always have it on hand. Don't be surprised, Countertop RO systems purify water 8-10 times longer than a regular water filter.
Every RO system in the world split water into 2 flows pure and waste water. The ratio is 1 part of pure water for 2.4 parts of waste water. This is how Reverse Osmosis technology works.
Type of connection.
You can choose the following type of connection. If you need another type of adapter, you can specify that in Customer Notes during checkout or email us after purchase regarding this matter
standard kitchen faucet adapter. Shipped by default
indoor or outdoor via garden/laundry hose adapter
pulldown/sprinkler type of kitchen faucet (special adapter needed, adapter fits only 50% of sprinkler faucets)
other type connection (bathroom faucet, shower arm, or handheld shower)
Package content.
 Complete 4-stage Aquarium Reverse Osmosis Water Purification System with preinstalled new cartridges and RO membrane (ready to use)
 Adapter (depends on the type of connection you choose)
 Manual
Filter replacement.
Change filters every 12 months, and RO membrane every 24-36 months. The cost of the replacement
filter set
is $29.99 for 1 year.
Why choose Reverse Osmosis system.
The heart of any RO purification system is a reverse osmosis membrane. RO membrane splits water with 0.0005 micron filtration, approx 1000 times more effective than any water filter without RO membrane (see picture below).
TYPICAL REJECTION (REMOVAL) CHARACTERISTICS OF R.O. MEMBRANES: 
| | |
| --- | --- |
| Elements and the Percent RO Membrane will remove | % of removal |
| Arsenic | 93%-96% |
| Aluminum | 86%-90% |
| Bicarbonate | 90% |
| Cyanide | 85%-93% |
| Chloride | 85%-92% |
| Calcium | 94%-98% |
| Sodium | 86.5%-93% |
| Sulfate | 96%-98% |
| Potassium | 84%-95% |
| Barium | 95%-98% |
| Iron | 94%-98% |
| Nitrate | 60%-76% |
| Mercury | 94%-98% |
| Zink | 95%-98% |
| Selenium | 94%-96% |
| Lead | 95%-98% |
| Phosphate | 94%-98% |
| Magnesium | 94%-98% |
| Fluoride | 82%-92% |
| Nickel | 96%-98% |
| Cadmium | 94%-98% |
| Detergent | 96%-99% |
| Herbicides | 97%-98% |
| Insectecides | 97%-98% |
| Strontium | 96% |
Reverse Osmosis can remove between 85% to 95% of fluoride. For more information on the dangers of fluoride in your drinking water, please visit
http://www.fluoridealert.org/faq/
.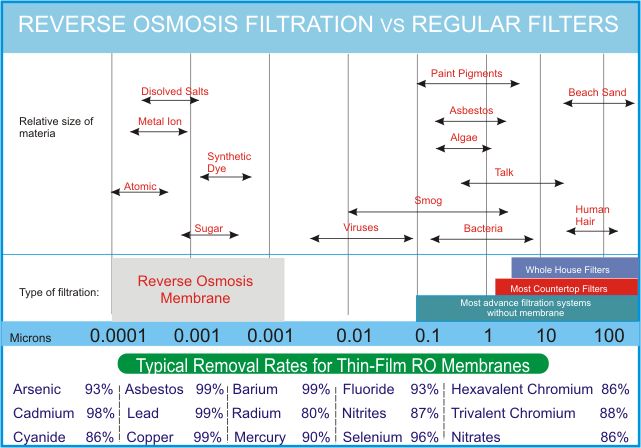 Compatible SKU#: 001-AQUA2 , 001-AQUA3