MyAquaFilter Countertop Reverse Osmosis System easily attaches to your kitchen faucet without the need for a plumber. Ideal portable solution for your apartment, house, RVs or during your travel time.
Instantly transforms tap water into healthy, high quality, fresh drinking water
Less than 60 seconds to install
8-12 months or 1000 gallons filter life
Depends on membrane GPD rating this RO system will produce 1 gallon of pure water within 8-11 minutes
State of the art 5-stage Reverse Osmosis filtration
Removes more than 800 contaminants
Purify water very close to distilled by quality
Removes all major dangerous contaminants, including chlorine, chloramines, viruses, bacteria, fluoride, arsenic, asbestos, VOCs, pesticides, chemicals etc
Significantly reduces fluoride (85%-90%)
Designed and Assembled in USA
100% Satisfaction guaranteed or 15 days money back
5 Stage MyAquaFilter Countertop RO system has following stages:
1st stage: Premium Quick-Connect 5 micron sediment filter. Dust and rust particles are trapped here in the filter which also extends the life of the RO system and the membrane.
2nd stage: Premium Quick-Connect T33 coconut shell activated carbon filter.
3rd stage: Premium Quick-Connect T33 coconut shell activated carbon filter.
4th stage: Premium High Rejection TFC type Reverse Osmosis membrane (membrane made in USA).  94%-96% of total dissolved solids (TDS) and other elements are removed in this stage. Arsenic, fluoride, lead, chromium, radium, viruses, bacteria, aluminum, cyanide, methane, silver, copper, chromium, strontium, uranium, benzene, nitrates, cysts, radium. cloudiness and other unhealthy contaminants are removed from the water. 200  gallon per day capacity.
5th stage: Option #1. Premium USA Made Premium antibacterial KDF-55/T33 filter. Produces high-quality water with deionizing mixed bed polishing filters. This stage produces exceptionally clean water, absorbing contaminates rest after the reverse osmosis process, and perfect fits for the removal of radiation. 

We recommend this RO system for travel time or not regular use (once a week). This Reverse Osmosis Purification System delivers approximately 8 gallons of pure water per hour. Removes more than 600 different hazardous contaminants from the water. RO removes between 90% to 98% of fluoride. For more information on the dangers of fluoride in your drinking water, please visit http://www.fluoridealert.org/faq/. For more information regarding reverse osmosis and pesticide removal, please visit http://www.ehow.com/facts_8333859_reverse-osmosis-remove-pesticides-water.html#ixzz2f7EwjviO.
What to expect.
If your tap (source) water 300 ppm, after filtration – 22-35 ppm for DI and KDF-55 post filters, 40-65ppm for KDF-55 and Calcite post-filters.  Tests need to be performed not earlier than 4-6 days of regular use.
RO System dimension: 14″x7″x7″, 10 lbs
This RO system produces 1 gallon of water every 8-10  min (very slow, water purification output depends on membrane GPD rating, water dripping not flowing). We highly recommend collecting water in advance (every day or every second day) to always have it on hand. Don't be surprised, Countertop RO systems purify water 8-10 times longer than a regular water filter.
Every RO system in the world split water into 2 flows pure and wastewater. The ratio is 1 part of pure water for 2.4 parts of waste water. This is how Reverse Osmosis technology works.
Type of connection.
You can choose the following type of connection. If you need other types of adapter, you can specify that in Customer Notes during checkout or email us after purchase regarding this matter
standard kitchen faucet adapter. Shipped by default
indoor or outdoor via garden/laundry hose adapter
pulldown/sprinkler type of kitchen faucet (special adapter needed, adapter fits only 50% of sprinkler faucets)
other type connection (bathroom faucet, shower arm, or handheld shower)
Package content.
 Complete 5-stage Reverse Osmosis Water Purification System with preinstalled new cartridges and RO membrane (ready to use)
 Adapter (depends on the type of connection you choose)
 Manual
Filter replacement.
Change filters every 12 months, and RO membrane every 24-36 months. The cost of the replacement
filter set
is $44.90 for 1 year.
Why choose this Reverse Osmosis system.
The heart of any RO purification system is reverse osmosis membrane. RO membrane splits water with 0.0005 micron filtration, approx 1000 times more effective than any water filter without RO membrane (see picture below).
TYPICAL REJECTION (REMOVAL) CHARACTERISTICS OF R.O. MEMBRANES: 
| | |
| --- | --- |
| Elements and the Percent RO Membrane will remove | % of removal |
| Arsenic | 93%-96% |
| Aluminum | 86%-90% |
| Bicarbonate | 90% |
| Cyanide | 85%-93% |
| Chloride | 85%-92% |
| Calcium | 94%-98% |
| Sodium | 86.5%-93% |
| Sulfate | 96%-98% |
| Potassium | 84%-95% |
| Barium | 95%-98% |
| Iron | 94%-98% |
| Nitrate | 60%-76% |
| Mercury | 94%-98% |
| Zink | 95%-98% |
| Selenium | 94%-96% |
| Lead | 95%-98% |
| Phosphate | 94%-98% |
| Magnesium | 94%-98% |
| Fluoride | 82%-92% |
| Nickel | 96%-98% |
| Cadmium | 94%-98% |
| Detergent | 96%-99% |
| Herbicides | 97%-98% |
| Insectecides | 97%-98% |
| Strontium | 96% |
Reverse Osmosis can remove between 85% to 95% of fluoride. For more information on the dangers of fluoride in your drinking water, please visit
http://www.fluoridealert.org/faq/
.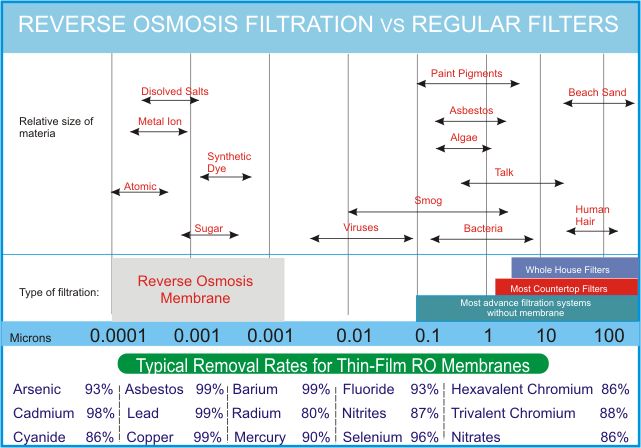 Compatible SKU#: 002-UBK2